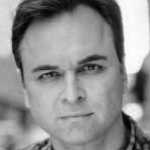 Sonny King is a relatively new film reviewer though he has been writing mini-reviews for his friends and family for a number of years. He was also a "radio" reviewer in college and regularly submits web reviews to various movie websites in the hopes of one day joining the official Online Critics Society.

Originally a film major at the University of Georgia, Sonny eventually shifted his attentions to working in front of the camera and by sheer luck was admitted into the Screen Actor's Guild in 1999.

Sonny presently lives in New York City and is the beneficiary of many free and discounted screenings, not to mention that anything in release either starts of finishes in NYC eventually.

If you have any direct feedback for Sonny he gratefully accepts any and all comments at his email address: SonnyK_USA@yahoo.com.

If you really like Sonny's picture, he is single and available for dating - preferably movie-dates - lol!

As for Sonny's age, let's just say that he saw STAR WARS - the first release - while he was a young teen (you do the math). The end.